Amputee animals have a hard life. In the last few years, more and more disabled creatures of

different species

are being helped by

modern technology

, and by the researchers and volunteers who go the extra mile.
Fuji's Rubber Tail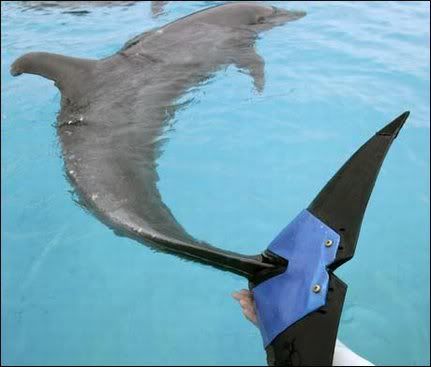 Fuji is a dolphin who lives in an aquarium in Okinawa. A mysterious illness in 2002 caused her tail to rot, and it was amputated to stop the spread of the disease. Without a tail, a dolphin can't swim. Engineers from

Bridgestone Tire

Company worked to design a new rubber tail for Fuji. The first designs did not work properly or had some other drawback. Finally, Fuji accepted the third tail design, made of silicon rubber with a foam padding, and was able to swim almost as well as an intact dolphin.
Uzonka and Beauty and their New Beaks
When a bird's beak is damaged, it may not be able to eat, drink, or hunt properly and could die as a result. Uzonka the stork had her bill damaged by human assault. She received a prosthetic beak after five preparatory operations and is in the care of an animal hospital in Uzon, Romania.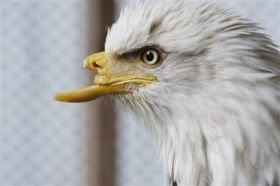 Beauty is an Alaskan bald eagle whose beak was shot off several years ago. She was found in 2005, unable to properly hunt or eat. She was taken to a refuge, but her beak did not grow back. Beauty will receive a nylon-composite beak next month. A new beak attached with screws would enable her to hunt, but the animal experts in charge of the surgery decided against it, because the screws would have to be dangerously close to her eyes and brain. Instead, her prosthetic beak will be attached with glue. Beauty must stay in human custody, where she will be fed and protected.
George Bailey's Implanted Leg
A cat named George Bailey was born with only stumps for hind legs. He got around by dragging his rear end. Veterinarians and engineers from

North Carolina State University

tackled the problem in a new way. Instead of attaching a limb over a stump, they attached an

artificial limb

to his bones. The hope was that the existing bone tissue would grow around the prosthetic, a process called osseointegration. Using a cat scan of the cat, they created a model of George's pelvis and leg bones and designed a lower leg and foot. In 2005, the team implanted a titanium post into George's stump, to which the prosthetic leg could be attached. George was soon running and jumping on his new leg. Animals that normally walk on four legs usually get along just fine with three. George took great advantage of his new mobility, and was so rambunctious that in two months, he broke the titanium nails that were holding his leg in place. The prosthetic limb had to be removed.
Storm's Carbon Fiber Paw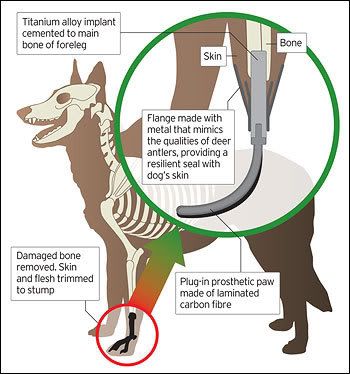 A Belgium shepherd named Storm had a similar surgery performed in England in 2007. Storm had lost a front paw due to a tumor. A titanium rod was implanted in the dog's radius, and a carbon fiber paw was later plugged into the rod
Stumpy the Kangaroo
Stumpy the red kangaroo lives in Ohio, at the International Kangaroo Society's sanctuary. She only has one leg. Veterinarians at

Ohio State University

created an artificial limb for her. Dr. David E. Anderson, Associate Professor of Surgery, Food Animal, of the College of Veterinary Medicine and Richard Nitsch, a licensed prosthesis orthotist for American Orthopedics, made sure it included a spring to replicate the natural movement of a kangaroo.
Allison the Triple Amputee Sea Turtle
Allison is a three-year-old Atlantic Green sea turtle. She was found in south Texas with only one fin, bleeding from where the other three should be. She was taken to Sea Turtle Inc, a turtle conservation facility, where she healed up against the odds. Allison can swim with just one fin, but only in circles. In February, medical and veterinary volunteers announced they would fit her with a prosthetic flipper on her left rear, where she has enough one to support one. There have been no updates, so the procedure probably hasn't taken place yet.
George the Pegleg Parrot
George the

African Gray parrot

lost a leg 18 months ago when he was attacked by an unidentified wild animal. Since then, he's had a hard time getting any sleep, as he tries to balance on one foot. It even drove him to swearing! But Dr. Glyn Heath of the University of Salford's School of

Health Care Professions

designed an artificial leg for George. Although Dr. Heath has made many false limbs for animals, this was his first prosthetic for a bird. This particular leg wasn't fitted on George himself, but attached to his perch. The idea was that George could sit on it and balance himself enough to get some sleep. However, George wasn't impressed with his prosthetic. In fact, he ate it.
Tahi the Kiwi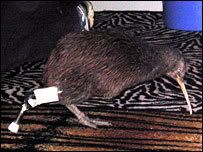 Kiwi birds do not fly; they walk on two legs. So when Tahi lost a leg in a trap, he could do nothing but hop. The New Zealand zoo where the kiwi lived turned to the WellingtonArtificial Limb Board and Weta Workshop, the team responsible for the special effects in the

Lord of the Rings

movies. The Weta crew made a mold of the bird's stump, and the Limb Board made an articulated (bendable) limb, the smallest they've ever made. Tahi can now stand, and is learning to run with his new leg.
Motala and Mocha Survive Land Mines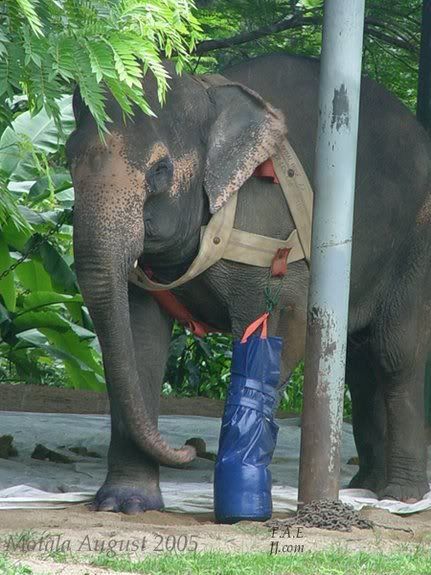 Motala the elephant stepped on a land mine near the Thai-Burma border in 1999. Veterinarians were able to repair her front leg, but it was left much shorter than the others. At Friends of the Asian Elephant's hospital in Thailand, Motala began using a prosthetic leg in 2005. The prosthesis is a bag filled with wood shavings, which makes her damaged leg as long as the others. She accepted the attachment, and is still using the same kind of prosthetic leg. You can follow Motala's life in pictures at her webpage